Red Sands Maternity Session.
Behind every photography session there is a story, and this was no exception. This maternity session started long before we ever showed up on that cold and rainy morning. It started by Jody and I having several conversations about the best time of day, what locations would work best for the concept, was it going to be just her, etc. She then spent time looking for her wardrobe and selecting the color to match the sex of the baby. In other words this wasn't something we just showed up for one day. What we didn't take into account however was the weather. We showed up and it was raining and breezy, which made for a very cold afternoon.
So we discussed the situation and decided that we would go ahead with the session anyway, and I am so glad that we did. The lighting was so beautiful because of the filtered light coming through the clouds and the rain made the sand turn an even deeper shade of red. We were even able to take advantage of the wind as it blew her hair and dress making for some lovely shots.
---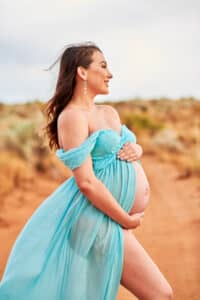 ---
A note about on location photography sessions:
I absolutely love taking pictures on location. There is something so beautiful about working with the natural light and my subjects. The downside is you can never fully anticipate what the weather will do, which means that all the careful planning in the world could be ruined.
So how do I handle these kinds of situations. Well, first off I always like to see if there is any possibility to continue with the session, because a lot of time and effort went to getting us to this point. If it is not possible to continue then we are left with two options; reschedule or cancel:
If you choose to reschedule then we will have to set a new date and this will be dependent on my availability, but you will not lose your deposit.
If you choose to cancel then you will lose your deposit, but will incur no other costs
In all honesty I've yet to cancel a session due to environmental factors, but I always want to be upfront with my clients. Letting them know the risks and benefits that come with choosing an outdoor session.
If you have any questions it is always important to discuss them with me prior to making plans to do a session with me.